Short of seeing Star Wars on the big screen, the pages of a book can keep bringing the Saga to life. With even more possibilities than a movie! So Echo Base will be out at the Children's Book Festival at Monroe Community College in Rochester New York on Saturday, November 7th, to help promote reading and support local libraries.
http://www.rochesterchildrensbookfestival.org/
Glen Ellyn Public Library
Nar Shaddaa Base and Midwest Garrison was called upon to throw a "Star Wars Extravaganza" at the Glen Ellyn Public Library in Illinois. Members spent the day evaluating "recruits" through a series of games; from "target practice" to "pin the arm on the Wampa" and "lightsaber training".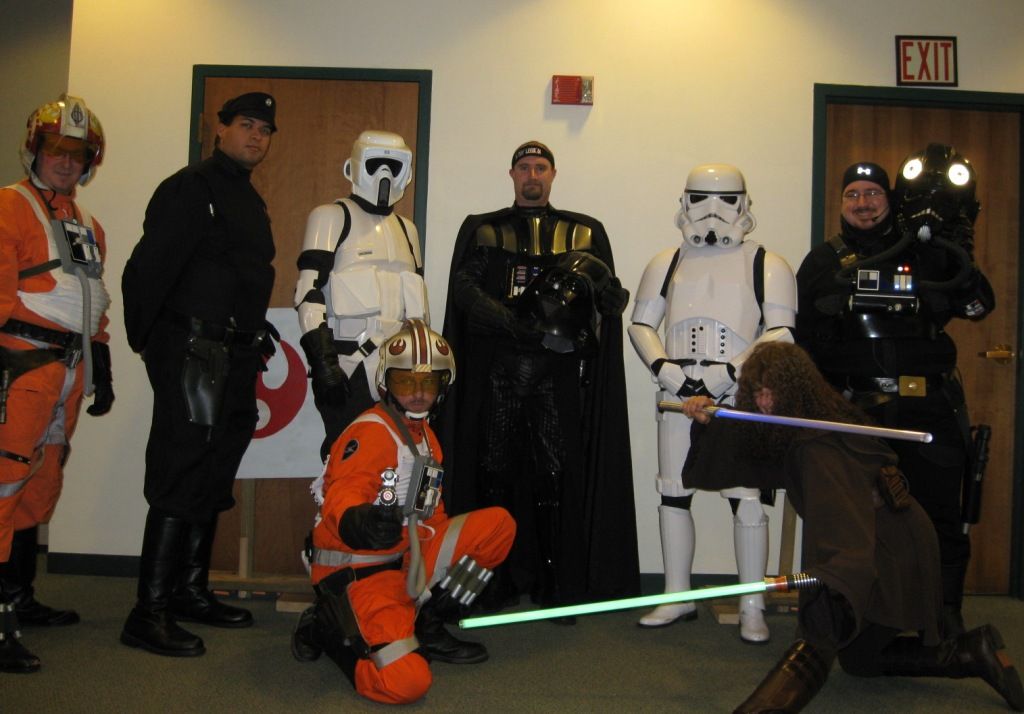 The complete mission report and additional photos can be found in our Mission Reports section -
http://www.rebellegion.com/forum/viewtopic.php?t=20709
Honorary Member - Lev Mailer!
On the eve of the 31st anniversary of the Star Wars Holiday Special, Central Base inducted one of the actors from that cinematic masterpiece - Lev Mailer. Lev portrayed the Imperial Trooper who bullied Saun Dann, the shopkeeper played by Art Carney. The presentation was extremely special for Teresa Jackson (leiasolosinger), as Lev is her acting coach.
Membership sponsored by Ed Cook (IndustrialSizeEd) and Phil Glover (bocrebjedi).
With Thanksgiving right around the corner, heralding the beginning of the Christmas season, with it comes the annual toy drives for the less fortunate. One of the biggest sponsors of giving toys to needy children is the United States Marine Corp's Toys-for-Tots. This year Rebel Legion members will be out helping the Marine's collect toys at many stores this season. So while you're getting gifts for your family, don't forget to get an extra toy or two for a less fortunate family in your area, and stop by and say HI to the Rebel Legion and Marines at these collection sites:
Buford, Georgia - Toys R Us store - Nov. 28th, 3 pm
Ellicott City, Maryland - 6031 University Blvd. – Dec. 5th, 11am
Concord, North Carolina - Toys R Us, across from Concord Mills Mall - Dec. 5th, 10am
Greenville, South Carolina - Richards Comics & Collectables - Dec. 5th, noon
Rio Grande, New Jersey – Wal-Mart – Dec. 5th, 10am
Glen Burnie, Maryland - Marley Station Mall – Dec. 12th, noon
Phoenix, Arizona - Toy Anxiety – Dec. 12th, 11am
Fairfax, Virginia - Toys R Us, Fair Lakes Plaza – Dec. 12th, 10am
Honolulu, Hawaii – Honolulu Hale - Dec 15th, 6pm
United Firefighter's Association Holiday Party
Echo Base helped with a little pre-holiday shopping on November 22. They lent a few helping hands to the United Firefighter's Association annual Holiday Party, an event exclusive to widow's and children of fallen firefighters. Toys-R-Us donates their Times Square store for the kids to roam around, play games, and have fun in anticipation of the appearance of Santa Claus.
For the complete report and more photos, check out the Mission Report:
http://www.rebellegion.com/forum/viewtopic.php?t=20829